Vitamin D deficiency linked to cardiovascular disease, diabetes, cancers, obesity, autoimmune deseases and even premature death
Kansas City, Kansas - Vitamin D deficiency was associated with cardiovascular disease risk and death, whereas Vitamin D supplementation was associated with better survival, according to researchers in the American Journal of Cardiology.
In the study, scientists from the University of Kansas analyzed data on 10,899 patients and found that 70% of them were deficient in Vitamin D. Those who were D-deficient were 40% more likely to have hypertension, 30% more likely to have cardiomyopathy, and twice as likely to have diabetes than those without a deficiency. Plus, they were three times more likely to die from any cause.
Patients who took Vitamin D supplements had a 60% lower risk of death from any cause, especially those who had previously been deficient.
The cause of the problem, according to a Boston University School of Medicine paper published in the American Journal of Clinical Nutrition is that:
most of us do not receive a moderate amount of sun exposure
very few foods are naturally rich in Vitamin D
foods that have been fortified with Vitamin D often contain inadequate amounts
Since they feel that Vitamin D deficiency has reached pandemic proportions, they also suggest that both children and adults consider taking Vitamin D supplements.
Oat fiber helps lower cholesterol, says Health Canada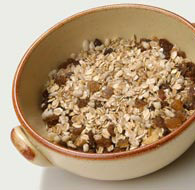 Ottawa, Ontario - In a recent decision, Health Canada concluded that scientific studies support the claim that consumption of oat fiber is linked to a reduction in blood cholesterol. As a result, they announced that beta-glucan oat fiber products -- that meet set criteria -- can claim they help lower cholesterol.
The sources of oat fiber eligible for the claim are oat bran, rolled oats (also known as oatmeal) and whole oat flour that are either food themselves (oat bran and rolled oats) or are ingredients in formulated foods (oat bran, rolled oats and whole oat flour).